Our focus ...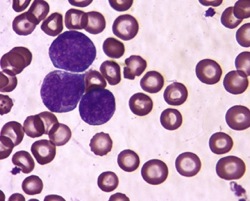 Leukemia stem cells are a subpopulation of leukemia that resist chemotherapy and therefore regrow the tumor, leading to relapse. Our laboratory conducts translational research focused on developing novel therapies to target leukemia stem cells in acute myeloid leukemia (AML). Focusing primarily on AML, we work synergistically with clinical investigators in the Leukemia Program of Weill Cornell Medical College to understand how leukemia stem cells are affected in patients undergoing clinical trials. Through collaborations between research and clinic, we are forming a detailed map of the genes and pathways crucial for the persistence of leukemia. By working with biophysicists and genome scientists, we are working to make leukemia therapy more effective. Through these efforts at bridging diverse disciplines, we are performing translational research to produce the next generation of leukemia therapies that are urgently needed so that patients can achieve better outcomes.
Our accomplishments ...

Dr. Guzman's research has resulted in several novel therapies that selectively target leukemia stem cells. She was responsible for the seminal work that discovered the first survival signal in leukemia stem cells, constitutive activation of the transcription factor NFkappaB. This work immediately led her to identify several therapeutic regimens based on NFkappaB suppression, which are in various clinical trials in AML and other malignacies. Among the most well known of these therapies is the single agent, parthenolide, found in the medicinal plant Feverfew (shown right). She has also shown that a drug initially intended to treat Alzheimer's disease ablates leukemia stem cells both rapidly and specifically.
Our direction ...
Our research program continues its efforts to define new mechanisms that help leukemia stem cells survive. We are working with leading clinicians, chemists, biophysicists, and genome scientists in the Weill Cornell community and beyond to better define the genes and pathways crucial for leukemia stem cell survival and implement novel therapies to eradicate them. In collaboration with clinicians, we are performing correlative studies to understand how investigational drugs modulate leukemia stem cell survival and function to help devise the best therapies for patients.
How you can help ...
Your generosity helps our research program continue efforts to help leukemia patients. If you would like to learn more about our research program or make a donation, please contact Dr. Monica Guzman. Weill Cornell Medical College is tax exempt under 501(c)3 of the Internal Revenue Code.
Links of interest